Welcome to OneChipDesign !
---
HAMSTIR DX
Interface for FT8, JT65, PSK31, RTTY, SSTV, Echolink, APRS etc.
No additional cables are required. That's why order-made products.

HAMSTIR DX has full-optical circuit between rig and PC. (no transformer used)
This is good for high-output power operation for HF band user mainly.
There are two types as below.
1. HAMSTIR DX-R1 --- Single rig operation
2. HAMSTIR DX-R2 --- Dual rigs operation independently (eg. EchoLink and APRS)

Operating Modes and Programs)
WSJT-X (FT8, JT65 etc.), MMVARI (PSK31, RTTY), MMTTY (RTTY), MMSSTV (SSTV),
HAM Delux, Digital Sound CW, Ctestwin (CW), EchoLink (EchoLink), AGWPE+UI-View32 (APRS)
* PC CW-KEY is for only DX-R1 that uses a part of Rig 2 circuit. Request it when order (same price)

Built-in Devices)
Sound : [USB PnP Audio Device],
* In addition, DX-R2 uses PC on-board sound device for Rig 2.
USB serial converter (Virtual COM) dual port by FT2232 FTDI chip.
* COM-A and COM-B (DX-R1 does not use COM-B)

HAMSTIR DX needs additional power supply for optical circuit (current : 10mA).
There are three ways and it depends on your transceiver.
This will be suggested before wiring and will be informed to you by e-mail.
1. External power supply for rig +13.8V etc.. This is better for a plural rigs operator.
2. Rig Jack (ACC etc. +V assigned in pin)
3. For Batteries built model. Photo coupling becomes only when PC control transmitting,
but not when rig turned PTT on (SSB, CW operating) .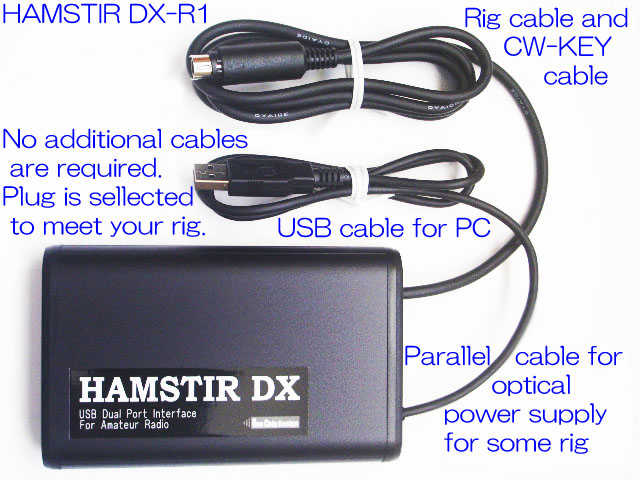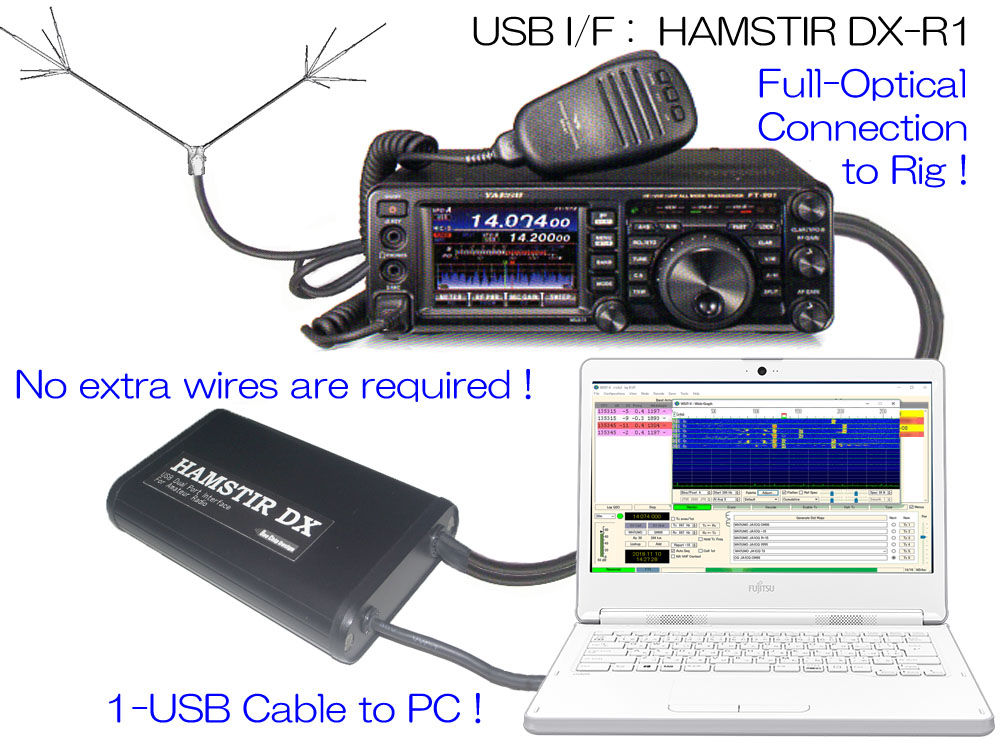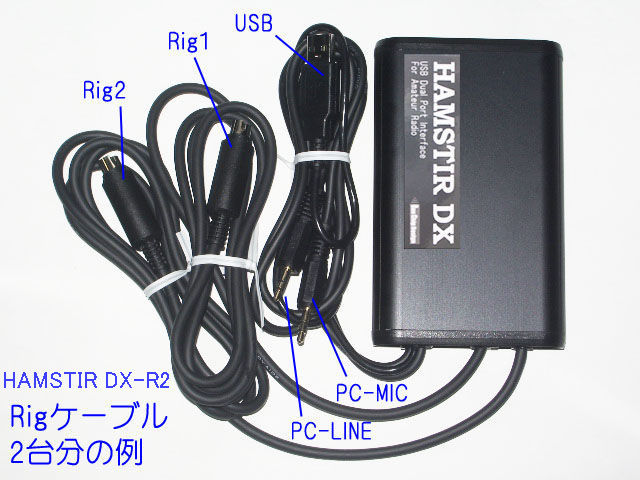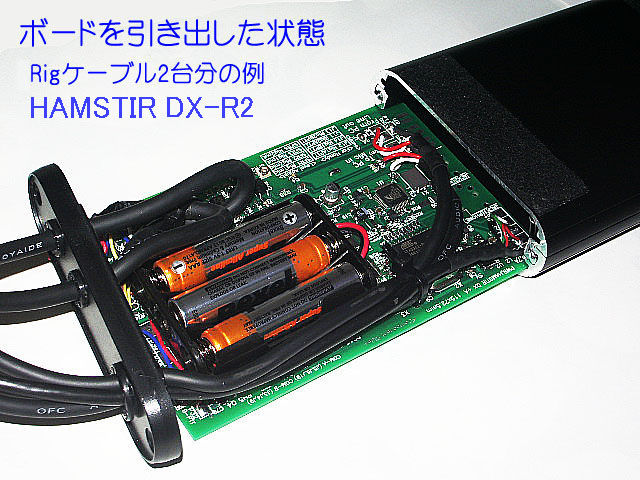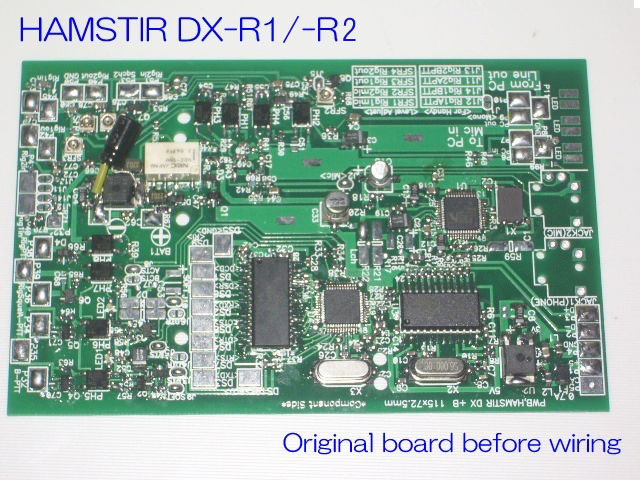 Various plugs can be selected to meet your transceiver DATA terminal etc..
Let us know your model name.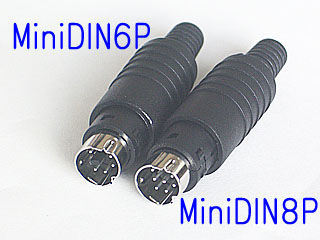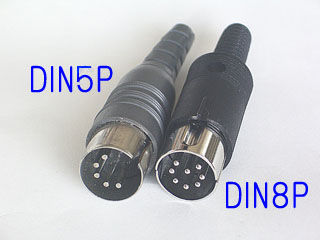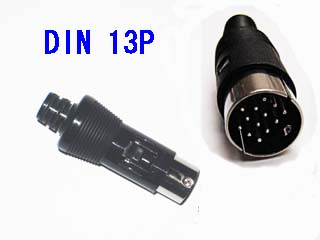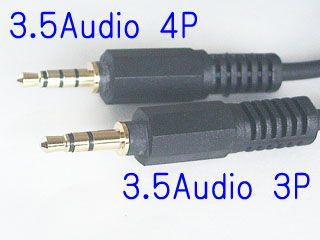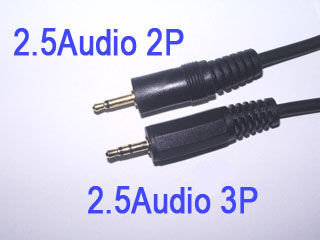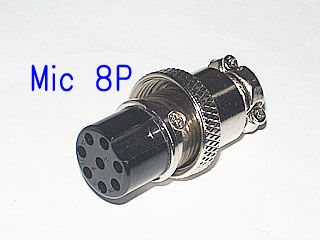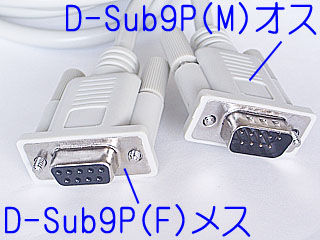 Prices)
HAMSTIR DX-R1 JPY 10,600 (PC CW-KEY cable addition, same price)
HAMSTIR DX-R2 JPY 12,100
Conversion Cable JPY 1,500 //from MiniDIN 6P or DIN 8P plug to various models (Example below photo)
* Payment information, [ Go to HAMSTIR ST page ]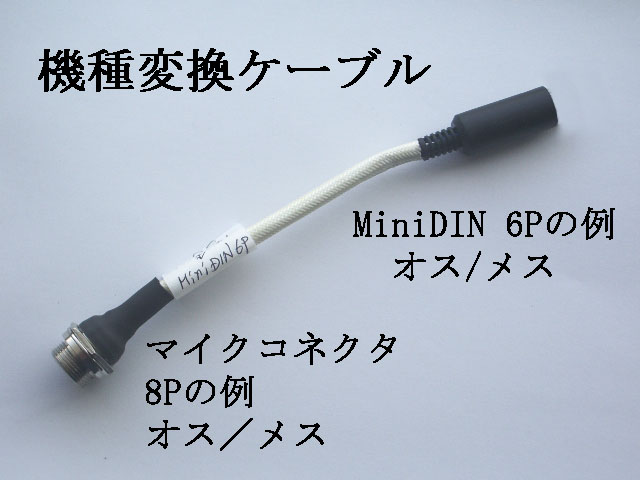 Specifications )
* Some items are as a reference.

USB Port : USB2.0 Full Speed (USB Hub, Dual serial converter COM-A/B, Sound chip)
Sound : "USB PnP Sound Device", in addition for DX-R2, PC on-board 3.5phi Plug (MIC IN, SP/LINE OUT)
Power Supply : +5.0V +/-0.5 --- USB Bus Power
Current Consumption : approx. 250mA --- USB Bus Power
Input Level Rig1/2 : 1.0Vrms/ 10K ohms --- Adjustable by SFR
Output Level Rig1/2 : 0.4Vrms/ 600 ohms --- Adjustable by SFR
A/B-PTT Driving : Open-Drain --- Sink current less 1A.
A/B-PTT Selection : RTS/ DTR
PTT time limitter : COM-B port only --- approx. 45sec.
Hand-held Rig Selection : A/B-PTT
Squelch Input Selection : A/B Port CTS
Squelch H Input Voltage : Min +3.0V --- Input current approx. 0.25mA
Rig2 Mute on Squelch : ON/OFF Selectable
6.0/ 12.0MHz Clock Freq. Accuracy : Less 0.25%
Temperature Ambient : 0 deg.C - 70 deg.C --- IC Spec. followed
Cabinet Dimension : W82 - D130 - H24mm --- Materials : Case=Alminum,, Panel=ABS
Weight : approx. 250g --- with Cables
Accessories : User Manual, Soft Case
* Adjustment by built-in SFR (semi-fixed resister) : First, take PC on-board by Sound Device window.
. Use built-in SFR only when can not adjust.
* VCCI, FCC, EN Compliance are not confirmed, but, designing considered.
* RoHS Directive : Pb free is not available on components soldering.
* Products are not by mass-production, but all hand-made samples.

---
Inquiry or Order :sales@onechipdesign.com
---
Q & A)
Q) What's the differerence?

= HAMSTIR ST
Basic circuit design with dual USB Serial converter (COM port) and
passive audio input/output line.
One of COM port is set as limitted transmit time (about 45seconds).
No other cable is required for PC and Rig connection.
This is not only simple but also better reliability (less contact points).

= HAMSTIR DX-R1
This uses the same board as DX-R2. But DX-R1 is only rig1 use.
And a part of rig2 circuit is used for PC CW-Keying (no additional cost).
This is especially good for high-power operating such as HF band.

= HAMSTIR DX-R2
This has a photo-coupled circuit between PC block (COM/Sound) and rig terminal.
This is good for high-power operating.
DX-R2 can control two systems together independently as below example.
EchoLink (Rig1) or APRS9600bps (Rig2)

If you operate only V/UHF only by single rig, HAMSTIR ST is enough.
In general use less 50 watts O/P power, You can countermeasure the problem by ferrite-core etc..
Download basic setting for digital communicating(zip898KB) :
Most of pictures are Japanese, but the points will be understood.
This is the case of WSJT-X settings, but almost common on the COM and sound items.
Most of sound devices have a sound enhansment such as surround effect.
This digital processing makes bad encoding and decoding.
CAT and CI-V features are for rig controling by PC, not for digital cmmunicating.
If there is not a preparation for it, refrain from setting !
However, WSJT-X "DX Pedition Mode" require CAT controling.
This controlling is not "must". When the bandwidth is set to "3000Hz", no need to take CAT (CI-V).
If you wish to take CAT controll (bandwidth 3000 to 4000Hz), use USB CAT Cable in the market.
Find it by "USB-CAT-Cable" or "USB-CI-V-Cable" inquiry. FTDI chip used is reliable!
And, this is for definitely low power operating such as FT8, JT65 etc..
FT8 DXpedition Mode in No CAT control :
The setting and QSO example page of FT8 DXpedition Mode in No CAT and No CI-V control.
---
Echolink is a registered trademark of Synergenics, LLC.
WSJT-X is licensed under the terms of Version 3 of the GNU General Public License (GPU).
WIRES-X is a registered trademark of Yaesu Musen Co.,Ltd.
Copyright 2012 OneChipDesign All rights reserved.