Welcome to OneChipDesign !
---
*** VoIP-Handset Model : VH-MD6 ***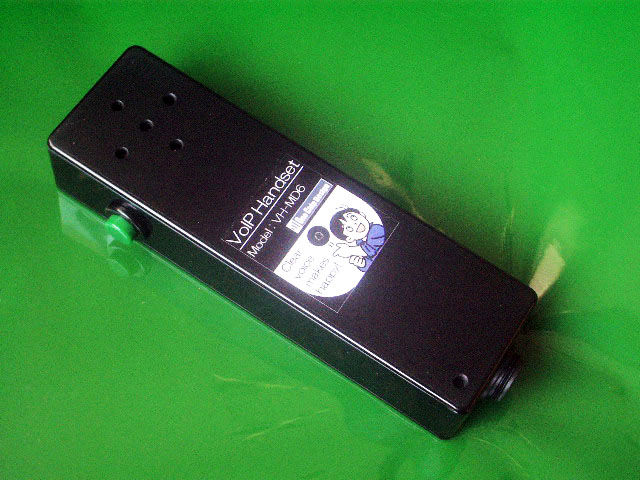 Good for smart operation of node station by replacing transceiver
in order to avoid QRM and interfereance.
Good for mobile WIRES-X operation (depends on mobile router).
It makes easy operation in foreign country without RF license.
MIC compression circuit makes clear and no distorted sound.
For export model, no batteries are attached. LR6 AA Alkaline Battery 2pcs are required.

Connection)

- For WIRES-X, use cable 10P-6P included in HRI-200 package.
- For Echolink, use interface which has DATA 6P plug (MiniDIN 6P).
. (HAMSTIR ST/DX or others)
-Also, gateway(cross-linking) unit HAMSTIR X-6P can be used.
Specifications)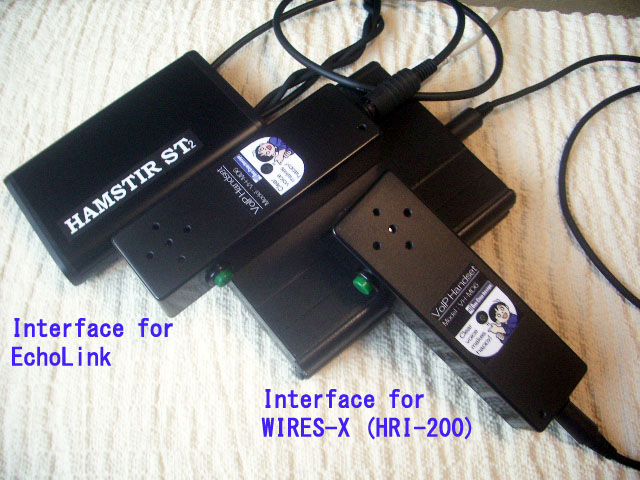 Power Supply : LR6 AA Alkaline Battery 2pcs (or Ni-MH Rechargeable Battery)

Consumption Current : No Signal approx.0.001mA, Receiving Max250mA (10% O/P), Talking approx.4mA

Battery Indicator : approx.2.3V (LED half brightness)

Turning Voltage - Talking : Same as Battery Voltege (Squelch Open Level)

Turning Voltage - Receiving : approx. 0V (PTT Level)

Speaker Amp. O/P : 300mW/8ohms/3V Adjustable by SFR

MIC Amp. O/P : 300mV/10kohms/3V Adjustable by SFR

Speaker : Dynamic 36mm Dia. 8ohms

Microphone : ECM (Electret Condenser)

Mic Compression Level : approx.20dB

Talk Switch : Small Push Momentary (Priority ; Receiving)

MiniDIN 6P Jack : Generic DATA Terminal spec.

Dimension : W40 - D130 - H25mm , ABS

Weigh : approx. 120g (include Alkaline Battery)
* Due to part purchasing arrangement, TALK Button color is either green or black.
Caution Points)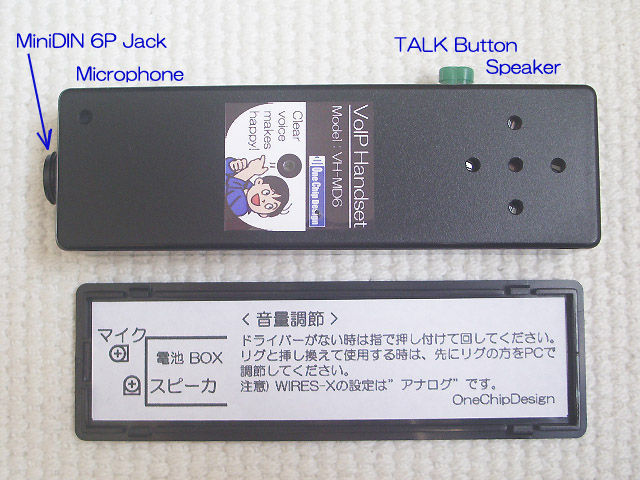 In WIRES-X case, [Transceiver] window, choose [RX:FM-TX:FM] (Analog). Digital can not be used.

In EchoLink case, [RX Ctrl] window, choose "Serial CTS".

When TALK button is pressed, current is approx.4mA .

So, when you go outside, insulate battery by using film tape (attached)

When you connect MiniDIN 6P Cable, meet it in correct angle to avoid accident.

If press TALK button during receiving from network, some sound can be heard.
However, no matter affects to network by the receiving priority.

Changing Battery)

The current in no signal condition is almost to zero. When it became unstable switching or
distorted audio sound, it will be the time of battery replacement.
How to change batteries, pull up the rear lid at the point of slot, then remove it.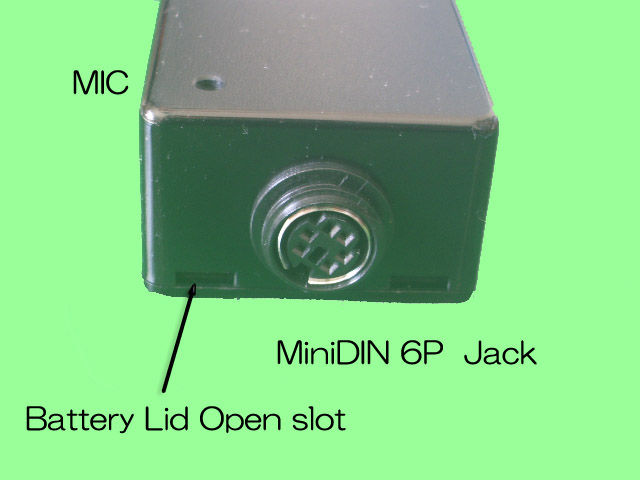 The holding both side of main cabinet makes more hard to remove.
So, better to hold the corner points of main cabinet.
After removed, hold both film tape end, pull up it to remove one battery first. Next, remove remained.
Before attach batteries, never forget to put film tape on battery box.

Audio Level adjustment)

When you use this alternatively with rig, adjust PC sound level first by connecting rig.
After that, connect to handset, then adjust audio level by built-in SFR (SPEAKER, MIC).
1. For Speaker level, adjust by receiving actual voice.
2. For MIC level, See WIRES-X/ EchoLink level meter, then speak in a loud voice,
and set SFR to proper position so that red/ yellow segment starts to indicate.
When no screw driver, press SFR by finger top and turn it.
Also, use scope monitor in WIRES-X Audio adjustments,and set it to ideal range (broken line).

Prices )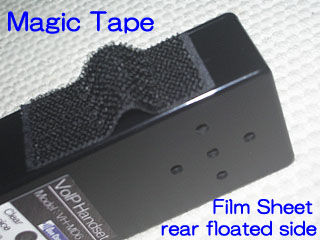 VoIP-Handset VH-MD6 : JPY 4,900
* Paypal system is available and can take the payment in JPY or USD currency.
* Payment information, [ Go to HAMSTIR ST page ]
* e-Bay listing is available if you wish.
Inquiry & Order )


Send a quotation request mail first.
Copy and edit below items when you send a mail.
Model : VH-MD6 = 1 set
Receipient :
Address :
Telphone No.: - - (for transportation)
---
Inquiry and Order : sales@onechipdesign.com
---
Q & A)

Q1 : Especially on the mobile operation, speaker sound is very low. How to get high level?
A1 : Use monitor terminal of HRI-200. Connect Speaker with high output amplifier or connect FM transmitter for car-audio.

Q2 : PTT button is too small, feel pain when long talking!
A2 : No space to put larger switch in cabinet. So, suggest to paste Magic tape as photo.
---
Go to [ Top ]
Go to [HAMSTIR ST] Page (English)
Go to [HAMSTIR DX] Page (English)
Go to [HAMSTIR X] Page (English)
Go to [OneChipDesign Home] Page (Japanese)
---
Echolink is a registered trademark of Synergenics, LLC.
WIRES-X is a registered trademark of Yaesu Musen Co.,Ltd.
Copyright 2012 OneChipDesign All rights reserved.